#OneManOneBike1000Miles
To give you an insight into the ups and downs of my journey over the next few months in preparation for my Lands' End to John O'Groats bike challenge in aid of cancer Research, I thought I'd start to put together a series of short blogs. This is a great way for me to document the entire process and have something to look back on but also a way for me to keep you all up to speed on what is undoubtedly my biggest challenge to date.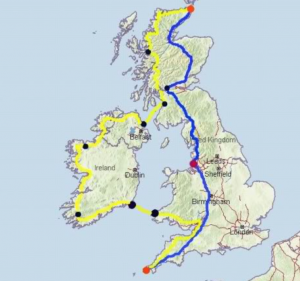 The blue line pretty much sums up the route …a few challenging months ahead!
Aside from a lad's holiday in Barcelona (not that I remember much about being on a bike as we spent the majority of the time in bars) , I've not actually rode a bike since my paper round. .
So exactly why am I doing this?
I want to embark on this challenge is based on a number of different reasons. Firstly and most importantly, it's to raise money for an incredible cause that has seen both family, friends and clients impacted and I'm sure many of you reading this have also been impacted in some way.
Secondly, whilst bodybuilding is "challenging" it's incredibly selfish. Sure I love the process, the journey and the discipline it requires but I  want to be able to use and explore my  mental and physical capabilities doing something far outside of my comfort zone.
Finally, I am in an incredibly fortunate enough position that work allows me to be flexible and travel so why not do something as amazing as this?!
Anyone that knows me knows that I am extremely competitive and whilst I haven't set a"I want to complete the challenge in X days", over the coming weeks I will be planning on setting my time frames.. The record was broken last week in an absolutely outrageous time of 41 hours (http://www.cyclingweekly.com/news/latest-news/unbeatable-lands-end-john-ogroats-record-beaten-first-time-17-years-383379) and whilst realistically there will be no records broken in this attempt I believe the average time taken to complete the event is between 10-14 days.
Moving away from" aesthetics" to "performance" is a change that is now going to allow me to explore another component of nutrition, training loads and recovery components that I haven't done so before which is going to be hugely insightful. I have the help of a phenomenal cycling coach in Dajo who will be helping me with all components of my programming for cycling and I have also enlisted the help of my good buddy Calum to feed me up, ensure I am recovering optimally and generally just looking after myself. I will give you guys a full insight into my training, food and recovery protocols but i'll keep that for my next blog.
If you wish to make a small donation to support my #OnemanOnebike1000mile challenge the JustGiving link is below.
https://www.justgiving.com/fundraising/joe-parish
#CancerResearch
#OneManOneBike1000Miles